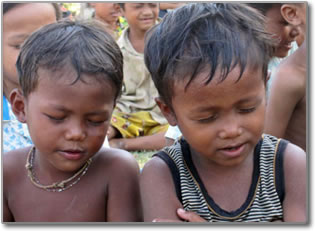 The goal of our ministry is to preach the gospel message of Jesus Christ throughout the world. We use development projects such as fish farms, water wells and home building as a platform on which to empower the poor and needy out of poverty and to guide them into the truth of Jesus Christ. In this way we are helping people to be developed in mind, soul and body so that they can live lives that are truly and forever transformed. Our aim is to show people a practical example of God's love in word and in deed that will lead them to eternal life.
We work on the basis of a two handed gospel. If a man is hungry and someone tries to tell him the gospel message he won't be able to hear because his stomach is growling to loud. But if you feed him first and then show him how he can provide for himself and his family then he is empowered and the doors to his heart are opened to hear the gospel message.

Throughout the countries of Madagascar, Mexico, and Cambodia, we have been able to preach the gospel to over 30,000 people! Our goal in Cambodia is to reach 150,000 people within the next four years with the gospel message of Jesus Christ. Would you please help us today?
If you would like to be a vital partner of evangelism throughout the world then please consider helping us preach the gospel today.
To become a partner in evangelism please email us at truth@eaipower.com Or Simply click on the donate button to give today.
Thank You!